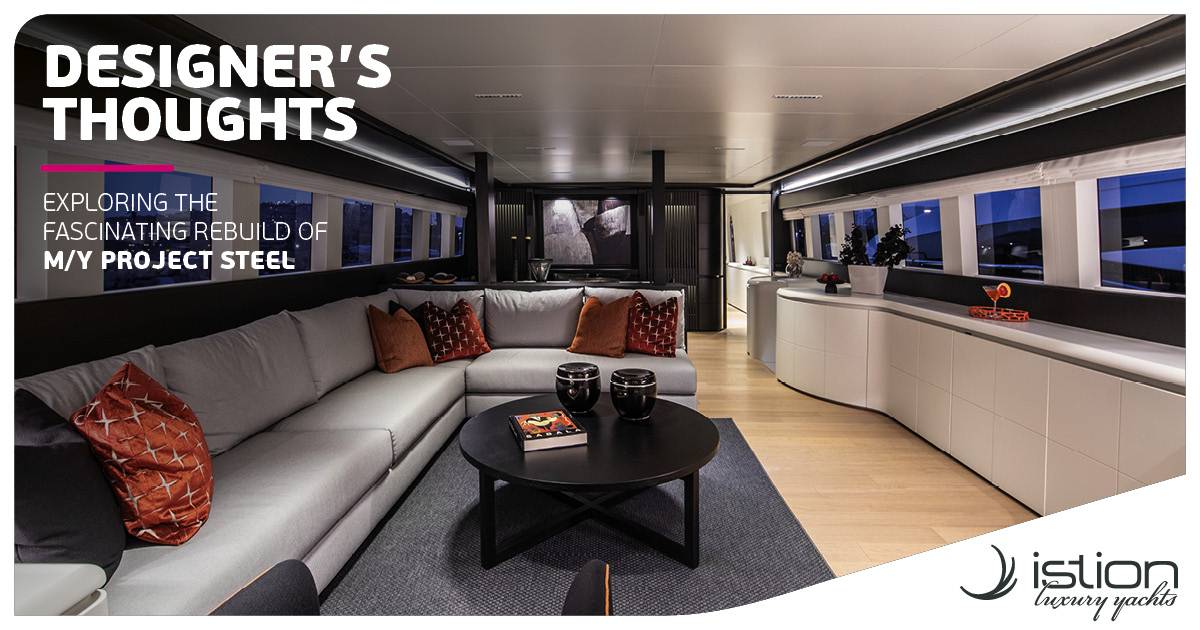 Friday, 12 February 2021
A behind-the-scenes 1 on 1 interview about the conceptualization and design of our crown jewel.
Istion Yachting is proud to share with you a very insightful conversation with architectural engineer Mrs Sofia Apergis, co-founder of construction company AIRTEC, who orchestrated and supervised the overall rebuilt of the luxurious M/Y Project Steel.
Special Thanks to Mrs. Apergis and Airtec for revealing to us the secrets behind the creative process, from the inspiration and eventually the total transformation of an amazing Bugari 112 to a floating 5-star VIP luxury hotel.
INTERVIEW:
ISTION: What is the very first feeling that a guest experiences upon embarking the luxurious motor yacht?
S.A.: Couldn't be other than a mellow and stress-free vibe created by the unique and balanced design across the entire vessel.
—————-
ISTION: What were the owners' original thoughts and ambitions upon instructing you to design architectural elements of the total refit?
S.A.: The whole refit operation was based on the owners' initial desire for a modern, elegant and at the same time uniquely luxurious space where one can feel that they're experiencing a floating five-star hotel experience.
—————-
ISTION: What were the initial goals you've set at the design process? Did you choose to focus on a unique feature and expand on that particular element?
S.A.: The design was strictly based in clear and concise guidelines, giving priority on detail alas emphasizing on simplicity in order to be both unique and pleasant in the common eye.
—————-
ISTION: The yacht's actual operational compartment is considered a part of the general aesthetic aspect of the design. How did you accomplish such a feat?
S.A.: Every dedicated space was carefully evaluated individually as a unit and then as a part of the bigger picture. The need for privacy and the soft, minimalistic touches of elegance are key factors to the greater viewpoint of this artistic project.
—————-
ISTION: Aside from aesthetic details, carefully choosing prime materials to work with, what are the most beneficial factors to your creative thinking process?
S.A.: Clear and thin lines indoors and on furniture were the main focus on our project. The back and forth of white contradicting black providing a sense of purity and assertiveness. Color selection of fabrics, linen and miscellaneous furniture carefully placed indoors is a part of an uncompromising focus on combining beauty through simple yet intelligent design. Enticing therefore shapes and forms that affect all passengers aboard by providing them with a feeling of relaxation which at the same time is exhilarating yet always inspiring.
Light sources were designed with a contemporary creative model in mind provided via an elaborated automated system emphasizing the necessity of harnessing the indoor and outdoor elements of the yacht. Thus intelligently illuminating the floor area as well as the walls decorating the common rooms or the generous bedroom suites without imposing a sense of plush luxury was the key focus here.
ISTION: What do you believe that each and every passenger enjoys most aboard Project Steel?
S.A.: The vibrant indoor hallways. The sleek plus elegant look in the dining room. The all-encompassing cabin design which surpasses the feeling of a confined space and extends the overall feeling of living in a floating 5-star vip luxury hotel.
—————-
GENERAL DESCRIPTION:
The yacht's outdoor view having been recently uplifted and rebuilt with a distinctive look giving an assertive and vibrant feel as well as shapes and lines that reinforces the motor yacht's aerodynamics was eventually used in the same style to accompany the indoor design.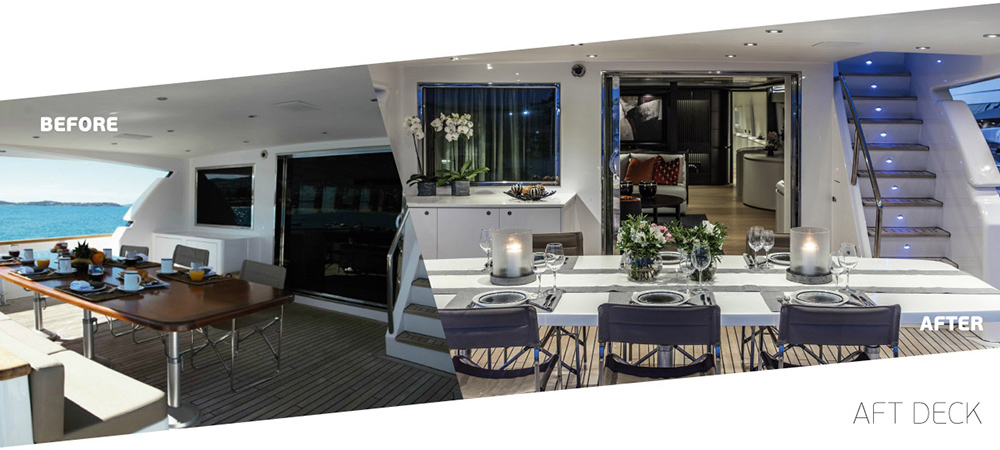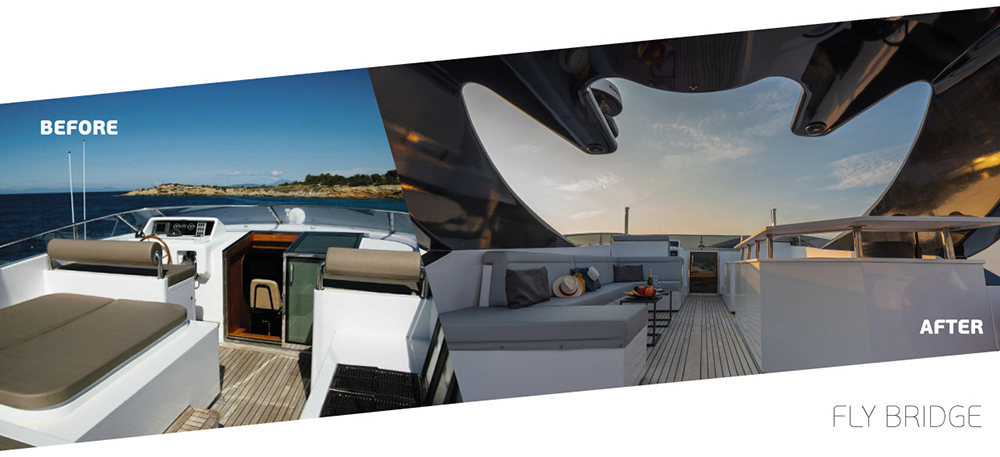 A very stimulating project in which all wooden surfaces were specially coated with high quality watercolor varnish in shades of white and black.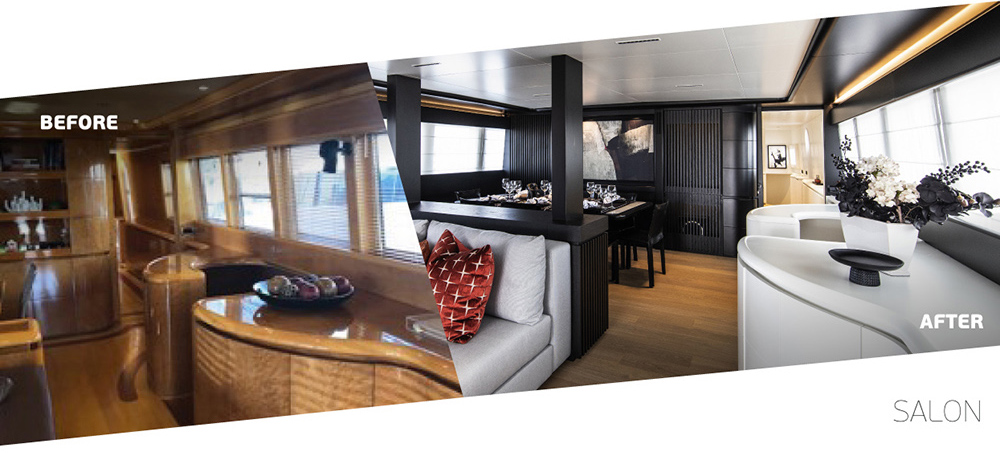 All bathrooms were redecorated and redesigned completely from scratch with huge high quality ceramics and porcelain infused marbles Αrabescato and pietra grey.
Specially constructed water basins, countertops, lacquered cabinets and shower enclosures made of high-quality solid surface corian perfectly in-line with stunning mirrors, giving off a sense of necessary attention to detail.
Shower enclosure batteries are reinforced with stainless brush steel of the finest italian manufacturers.
All indoor furniture were custom-designed for Project Steel from the finest quality materials, such as brushed oak wood fashioned with fabrics and linen from high-end fashion designers.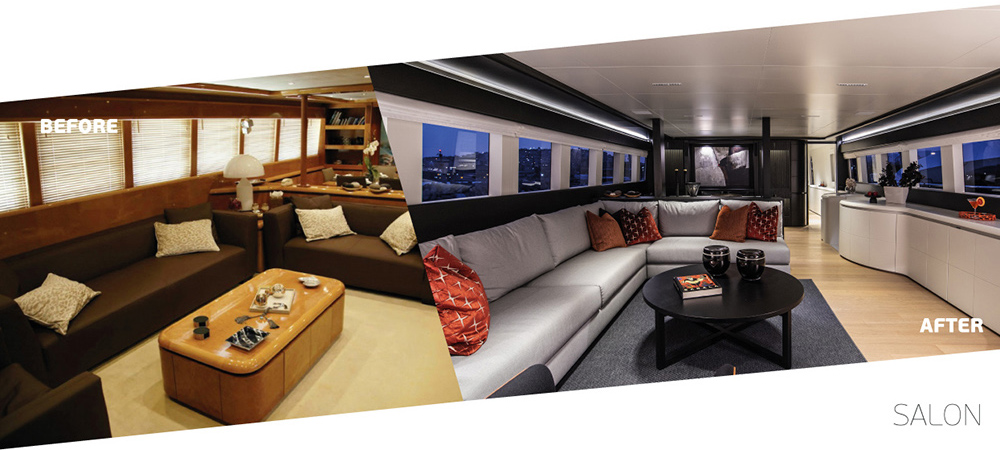 There has been a total rebuild of roofs and flooring made of polished oak wood planks whereas the spacious bedroom suite floors were covered with haute couture carpets en cue with bed linen and tapestry.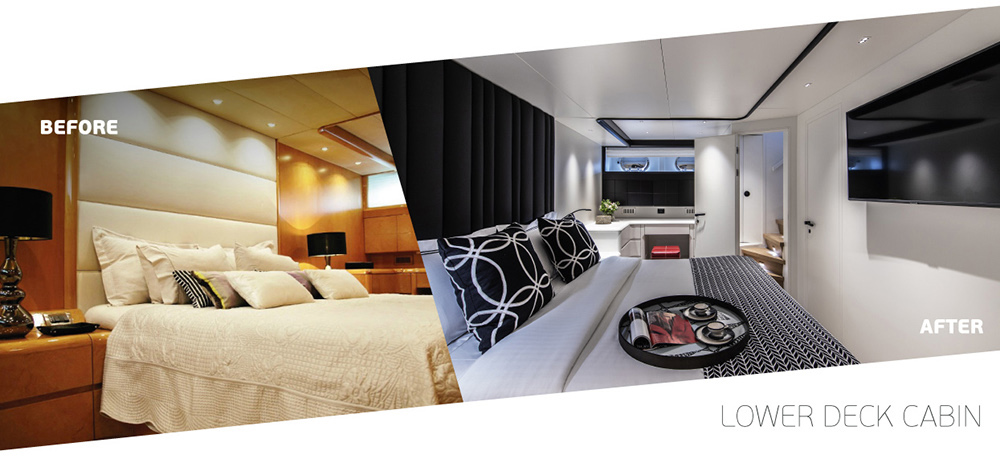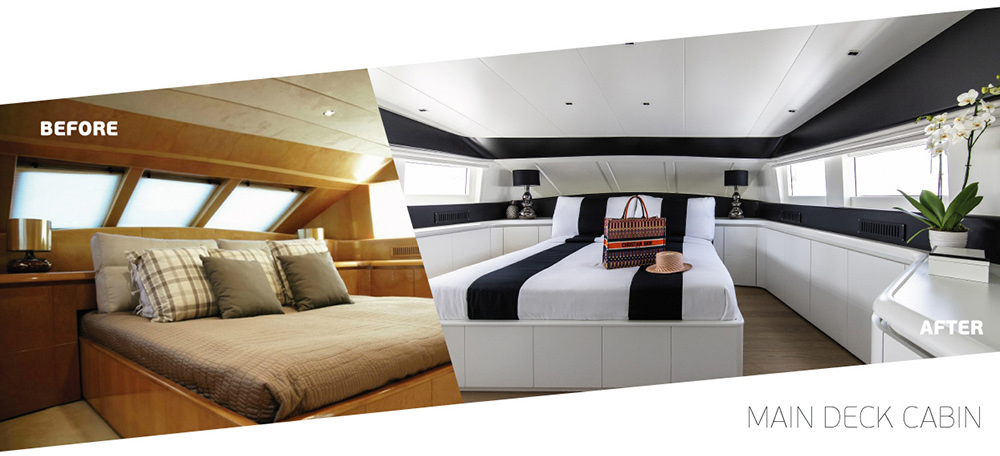 Huge amount of detail and focus was given to illuminating the appropriate areas with clever lightning system. Recessed luminaires integrate into the yacht's architecture fulfilling their task without unduly affecting the ceiling's appearance.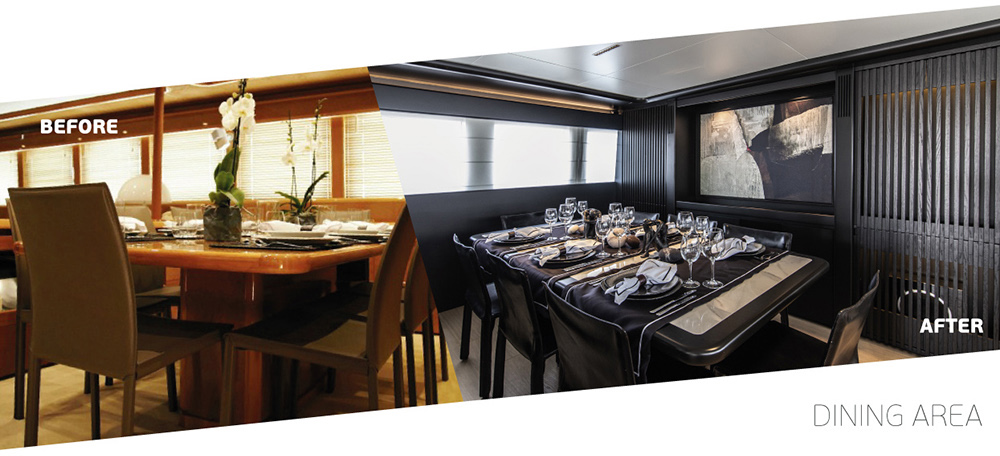 —————-
Mrs Sofia Apergis along with electrical-mechanical engineer Vasilis Karavas are sharing their technical know-how and industry expertise in privately owned construction projects and designs (hotel units, luxury housing, etc.). www.airtec.gr