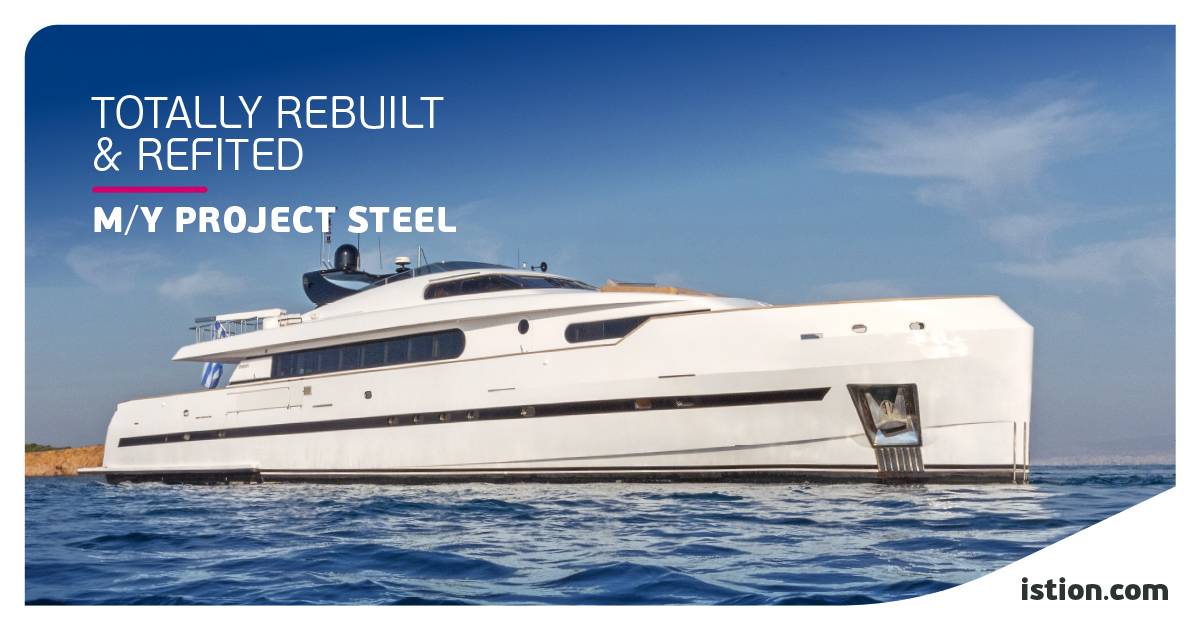 Thursday, 28 May 2020
Ιn 2013 an ambitious project was conceived to restore the super yacht "Miss Danna", designed by naval architect Vincenzo Ruggiero and built by Bugari shipyard to her full glory, then man her to the highest standard so as to turn her into a point of reference in luxury yacht charters!
Following the refit, the renamed Project Steel is a truly majestic yacht offering smooth and quiet cruising as she effortlessly traverses the Greek seas.
In 2019 the revamp project was continued with a full hull conversion including a 4 meter extension and a new vertical bow.
She is now state of the art even for todays standards as all new trends of naval design have been implemented in the hull.
New teak on all the decks, all new exterior furniture, cushions and painting of hull and superstructure where also done.
In 2020 the Project is completed by having a full interior refit/rebuilt. There was a complete change of uphostery, new linen and fabrics throughout,new mattresses in all beds, new led lighting in all interior spaces, new sofas and furniture in saloon and dining area, new sound system for all common interior and exterior areas with Creston electronics controlled by iPad, a complete rebuilt of all the en suite facilities with ceramic panels & corian, new contemporary artwork and modern detail, bringing the yacht to ''as new condition''.

Families and groups of friends of up to 12 guests will comfortably accommodate themselves in 5 luxurious cabins, enjoying her lavish, spacious interior and ample exterior space and enjoying the 5 star services of a truly professional crew - a perfect combination for an unforgettable cruise in Greece!


For more info on this magnificent motor-yacht click here